Click here to see our newest Custom USA made Ventures Model Guitar.
Checkout our 50th Anniversary, The Ventures Five-O Guitar Package at our gear store
"Wilson Bros. is the only licensed company to have exclusive rights to The Ventures name and trademark. The Ventures play and endorse Wilson Bros. guitars exclusively."
ACCEPT NO SUBSTITUTES!
| | |
| --- | --- |
| The VENTURES are the biggest selling instrumental band in music history, selling more than 110,000,000 records and recording over 250 albums worldwide. They are without a doubt one of the most influential guitar bands of all time. | |
| | |
| --- | --- |
| | The VENTURES have endorsed guitars from Mosrite, which the Ventures name made famous and is one of the most sought after guitars for collectors, to Fender's 50th Anniversary Model Limited Edition series. |
| | |
| --- | --- |
| Now The VENTURES have designed their own guitar line, drawing on over 50 years of experience. Over 12 years of design work, the Ventures have put all of their favorite qualities into these guitars. This guitar line is definitely Venture-esc! | |
The VENTURES now exclusively play these Ventures Model Wilson Bros. guitars

.
Click on Photos to Enlarge
Les Paul with Don Wilson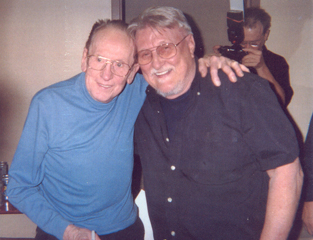 Slash with Nokie Edwards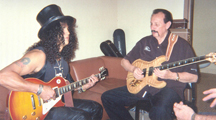 George Terry with Don Wilson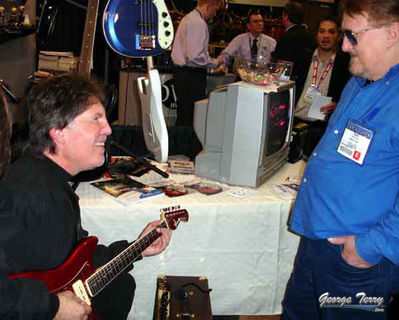 | | |
| --- | --- |
| Jeff Cook, of ALABAMA, and Bob Spalding (the fifth Venture), play and endorse the Ventures Model Wilson Bros. guitars. | |
| | |
| --- | --- |
| | "I've played guitar for a long time on countless hit records and concerts and have seldom seen an instrument as gorgeous and great sounding as the Wilson Bros. VM-65 Ventures Model Guitar. It's not only a great surf guitar but fits neatly with versatility into other genres as well. This is my "desert island" axe and I can justifiably say that I'll be featuring this instrument as my main guitar from now on. This baby does the business. Looks alone could carry the day for this instrument but the sound is there as well and it's a real pleasure to play. I love it!" |
| | |
| --- | --- |
| | |
© 2004 Wilson Guitar Ventures